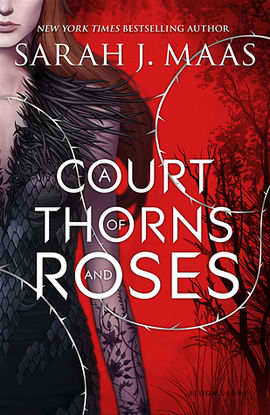 General
A Court of Thorns and Roses by Sarah J Maas
Pages: 416 pages
Genre: Young Adult, Fantasy, Retelling
Publisher: Bloomsbury Publishing in May 2015
Check it out: Goodreads 
Buy it from:  Amazon // Book Depository
My rating: 5/5 stars
Summary
A thrilling, seductive new series from New York Times bestselling author Sarah J. Maas, blending Beauty and the Beast with faerie lore.
When nineteen-year-old huntress Feyre kills a wolf in the woods, a beast-like creature arrives to demand retribution for it. Dragged to a treacherous magical land she only knows about from legends, Feyre discovers that her captor is not an animal, but Tamlin—one of the lethal, immortal faeries who once ruled their world.
As she dwells on his estate, her feelings for Tamlin transform from icy hostility into a fiery passion that burns through every lie and warning she's been told about the beautiful, dangerous world of the Fae. But an ancient, wicked shadow grows over the faerie lands, and Feyre must find a way to stop it… or doom Tamlin—and his world—forever.
Perfect for fans of Kristin Cashore and George R. R. Martin, this first book in a sexy and action-packed new series is impossible to put down!
                      REVIEW (spoiler-free)
I cannot put into words how much I adored this book.
It had been sitting on my shelf for a while before I picked it up in May for a readathon I was participating in. During the readathon I mananged to finish 50 pages of it and I was fully-gripped. This book grabs you and doesn't let you go until the very last word. Let me tell you, the hype is real. On May 3rd everything I saw on bookstagram was "A Court of Mist and Fury", the second book in this fantastic trilogy (I think it's a trilogy..). So, yes. Go read it. Okay, let's get into the real review.
What I loved so much about this book?
I think one of the reasons why I loved this book so much were the characters. They felt real and relatable. Sarah J. Maas managed to write about (some) fictional characters and made them feel raw and real. Feyre was by far my favourite character. She was such an amazing person and she had UNREAL character development (in a good way!!). At first she was a very strong person but she would put everyone before her and she wouldn't care for herself a bit. That was until she left to Prythian with Tamlin. By the end of the book (I am not going to spoil anything) she was still a very strong person but she learned to love someone who is not a part of her family which she had to protect. I am not going to say anything else about Feyre just because I want you to go read it and discover for yourself.
Another reason I loved this book so much was the plot. The book kept me guessing each page but I never got it right. Until the last page I didn't know what was going on and I was SO SHOCKED at many parts of the book. (again, no spoilers but READ IT PLEASE!)
Besides the action, the feelings were real. I laughed out loud at this book (which I never do), I giggled but I mostly cried. I cared so much for the characters (especially for Tamlin!) and they went through so much in this novel togheter and individually.
Lastly I want to talk about the writing. I have never read a Sarah J. Maas book before and I am not really interested in the ToG series. I picked up "ACOTAR" just because it was a retelling of "Beauty and the Beast" which was one of my favourite stories when I was little. Reading it, I found myself tabbing parts of the book and writing every quote down in a little notebook. I am going to list some of my favourite quotes and descriptions now so you can see a bit of the fantastic writing.
"Don't feel bad for one moment about doing what brings you joy."
"We need hope, or else we cannot endure."
"Be glad of your human heart, Feyre. Pity those who don't feel anything at all."
"I was as unburdened as a piece of dandelion fluff, and he was the wind that stirred me about the world."
"Do you ever stop being so serious and dull?"
"Do you ever stop being such a prick?" I snapped back.
Dead—really, truly, I should have been dead for that.
But Lucien grinned at me. "Much better."
"Because all the monsters have been let out of their cages tonight, no matter what court they belong to. So I may roam wherever I wish until the dawn."
"Because your human joy fascinates me—the way you experience things, in your life span, so wildly and deeply and all at once, is … entrancing. I'm drawn to it, even when I know I shouldn't be, even when I try not to be."
"Because I wouldn't want to die alone," I said, and my voice wobbled as I looked at Tamlin again, forcing myself to meet his stare. "Because I'd want someone to hold my hand until the end, and awhile after that.
That's something everyone deserves, human or faerie."
I loved everything that this book offers: characters, plot, writing, mystery, love, drama, romance..
This is my new favourite book of all times. My number one. If you are still hesitating please pick it up and read it. I am so happy I did because I discovered my new obsession. Btw, after I finished it I reread every single part that had tabs and I was in a good mood for the whole next week :)) My rating is not 5/5 stars but an infinite out of 5 stars.
Talk to you soon,
Letsrunawaytobooks .