Hello everyone!
Today I'm reviewing an amazing diverse book which I buddy read with the lovely Taylor from Taylorreads (https://www.instagram.com/taylorreads/). It's a perfect combination of cuteness, sadness, discovery and a coming of age story. Keep on reading this review if you're interested in this book (which you should totally be!).  This is spoiler free.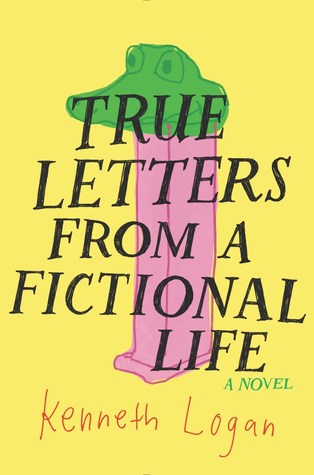 Title: True Letters from a Fictional Life
Author: Kenneth Logan
Pages: 336
Rating: 4.5/5 stars
Synopsis from Goodreads (and cover picture):

If you asked anyone in his small Vermont town, they'd tell you the facts: James Liddell, star athlete, decent student and sort-of boyfriend to cute, peppy Theresa, is a happy, funny, carefree guy.

But whenever James sits down at his desk to write, he tells a different story. As he fills his drawers with letters to the people in his world–letters he never intends to send–he spills the truth: he's trying hard, but he just isn't into Theresa. It's a boy who lingers in his thoughts.

He feels trapped by his parents, his teammates, and the lies they've helped him tell, and he has no idea how to escape. Is he destined to live a life of fiction?
IF YOU DO NOT WANT TO KNOW MUCH ABOUT THE PLOT, JUST SKIP THIS PART!
I loved James, the main character. He is a soccer player who loves to run and lives in Vermont. He is in a kind-of-relationship with Theresa, to whom he is half in love with. He also has a crush on one of his friends, Tim Hawken, and admits it to him on a snowy night. That's when he stars questioning himself and discovers he truly likes boys. He knew it before but thought it was normal. The story becomes really fast paced and interesting when he meets Topher, a boy who plays in his school's theatre. They go on a "non-date" on one afternoon. It includes funny snacks and adorable moments. He discovers himself from there on.
James is a funny, smart, lovely and athletic teenager. He has a group of small friends: Derek, Tim, Mark, Theresa and Kim. They often have parties and gatherings around the fire. I loved the descriptions of those nights. It's really awesome, lovely and heartbreaking at the same time to follow James through his coming out, being at peace with himself and learning to accept the fact that he likes boys.
Topher is a very cute teenage boy who loves acting and is always supporting James. He's really smart and nice and attracts our main character's attention immediately. The relationship between them is, in my opinion, a well done and cute one.
Derek is one that stood out to me and the one I learned to like. He truly cared about his friendship with James and helped him through everything.
I also like Tim Hawken because he became one of James's closest friends and really was next to him when he had to come out.
Theresa, James's girlfriend, was really nice and sweet and loveable. She was able to care for James even after she found out he liked boys. Well, not at first. At first she was destroyed but, honestly, I would've been the same.
Mark annoyed me a lot because he was a horrible person. If you read the book, you will understand why. He only cared for himself and he tried to be cool by showing his power.
"I didn't come up with the lie. It wasn't mine. They handed the lie to me, and I tried like hell to make it work for a while."   
"I've always wanted to wake up one day in a world where I liked the right people, and they lied me in return. I worry it'll never happen."   
"But also, I could remember him telling me that he just decided he had to make a choice. He could either be who everyone wanted him to be – and be miserable – or he could just ignore people who hated him, be himself, and be happy."
Honestly, the thing I loved the most about this was the fact that it was real, it was raw. Logan talked about some serious issues these days in a well done way, surpassing my expectations of the novel a lot. If you want to experience a lot of feels, this book is for you. The author managed to write it in a way everyone will feel the things James is going through as an emotional punch.
Also, if you enjoyed To All The Boys I've Loved Before by Jenny Han, I can pretty much guarantee you are going to enjoy this book. Even though these 2 are very different, they do have a similar plot line, in a way.
Overall, if you enjoy coming-of-age stories, emotional but also cute and fast-paced books, this book is for you.
Alexandra