I've been thinking for a very long time how to start blogging again and what to write about first. After brainstorming for a while, I decided to update you on what has happened so far in 2017 in the departments of reading and my actual life.
I've been absent for most of the year because, on June 19th and 21st, I had two very important exams that I studied for since September. I ended up getting 10s (the highest grade) in both of them, and I couldn't be happier. Now that those are out of the way, I can finally enjoy summer break and I am so excited to be back to blogging.
---
I've managed to read 27 books so far, which is pretty good considering I barely had time to do anything other than studying. Out of those, I will tell you my absolute favourites and the ones I recommend the most.
When The Moon Was Ours by Anna-Marie McLemore
I listened to this audiobook for free on Youtube and I ended up loving it. The writing style is magical, McLemore weaves words into a story so beautifully. The characters were all very complex and diverse, and the magical realism part of it was done very well. I highly suggest buying it or listening to it, because the book is a work of art.
True Letters From A Fictional Life by Kenneth Logan
"True Letters From A Fictional Life" is a very powerful book with an important message. It tells the heartbreaking, yet beautiful story, of a boy who has everything but he's not so sure that's what he wants for himself anymore. It's one of my all time favourites now and everyone needs to read this. Actually, I have an interview with the author that I never posted, so comment down bellow if you want me to. My full review for this book is here.
Every Heart A Doorway by Seanan McGuire
Anyone who enjoys reading will fall in love with this hidden gem of a book. If you ever thought about how it would be to live at Hogwarts, in Prythian, or in any fictional world, this is for you. Since it's a very short book, I suggest reading it without knowing what it's about, but I do have a review for it if you want to see my full thoughts on it, which you can find here.
A Court of Wings and Ruin by Sarah J. Maas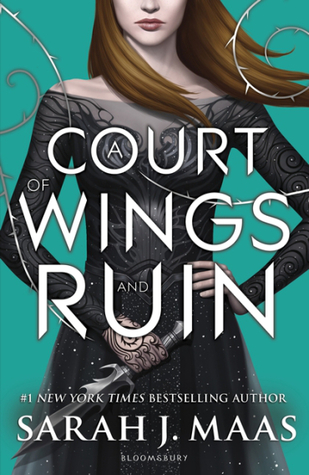 The last book of my favourite trilogy. It's 700 pages long and I still managed to finish it in 3 days. I am aware of the controversy surrounding the ACOTAR series, more on ACOWAR, but it's still my favourite book and my opinion hasn't changed. It has a great plot, amazing characters and it made me feel all the feels. I don't have a review for it, but I do have one for ACOTAR here and I blogged my experience reading ACOMAF here.
---
I absolutely love seeing stats so here are some pie charts because who doesn't love these?
I don't have many reading goals for the second half of the year. I want to complete the Around The Year in 52 Books challenge if I can, I want to keep reading more diverse novels and hopefully get my TBR (which stands for To Be Read) under control.
I want to start collaborating with publishers and stores from Romania more. Right now I can proudly say that I work with Storia Books and Books Express, which I will talk more about in the future.
Also, I need to read more of Anna-Marie McLemore's work, and same goes with Marc Levy, who is a French author. I read one book by him, "Elle&lui" and I bought 3 more which I will hopefully read this summer.
---
Expect a small change around here. Once in a while I will post some reviews in Romanian for publishers and maybe one post a month just in Romanian, but besides that, this blog is mainly written in English.
I will start posting way more often now that I am on summer break and I would love for you to comment down bellow some posts you want to see next. It could be anything: book tags, recommendations, discussions…
That's it for now. I just wanted to update you saying that you will see more from me these next few months. Follow my bookstagram, where I post almost every day! My username is @letsrunawaytobooks.